WeightLoss2GO™ Mobile App
Take us with you wherever you go makes it easy to stick to the program.

---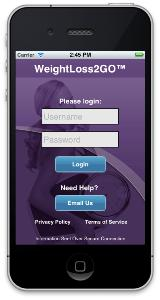 WeightLoss2GO™
Amazing Mobile App with exclusive manageable technology.
Track what you eat, your workouts and weight loss to stay motivated
* included with membership

* login anywhere, anytime with WiFi or cellular connection

* automatically syncs logged activity to your cloud account

* automatically pushes menus & grocery list to your mobile platform

* available on iPhone/iPad and Android

* enjoy the app without advertisement
A Step Ahead
While other mobile apps provide only food logging, WeightLoss2GO™ takes another step ahead by delivering a real "plan" for members to follow and make changes to meet personal food preferences.  WeightLoss2GO™allows the plan to stay in your hand at all times and motivate you to follow the program and achieve your best results.
How the WeightLoss2GO™ Mobile App Works
WeightLoss2GO™ provides members with a food and activity logging tool. All data logged on the phone automatically syncs up to a member's WeightLossVillage Web "Cloud" account, and all data logged on WeightLossVillage Web gets down synced to the WeightLoss2Go™ mobile app.