Skill Level: Beginner  |  Serves: 4  |  Start to Finish: 1 hour 15 minutes
By:   WLV Team Member
With the chill of fall in the air I love roasting veggies.  One of my favorites is sweet potatoes with butter, spices and either brown sugar or maple syrup.  In addition to being sweet, delicious and tender the aroma in the house is delightful while they are roasting.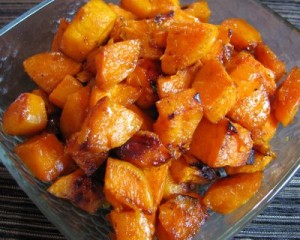 Ingredients
3 Sweet potatoes, peeled and cut into bite size cubes
2 tsp olive oil ( I prefer Extra Virgin Olive Oil)
1 tbsp butter
1 tbsp of brown sugar or maple syrup (more if you want it sweeter)
1 tsp of ground cinnamon*
1/4 tsp of ground nutmeg*
Pinch of ground ginger*
Sea Salt to taste
*Alternative 1 1/4 tsp of pumpkin pie spice
Directions
Preheat the oven to 350 degrees. Coat a small baking dish with cooking spray or parchment paper. . Once you've peeled and diced the sweet potatoes into bite size cubes, place in the baking dish. Mix together the melted butter, olive oil, salt and spices you selected.  Add more sugar or spices if desired. Toss to coat evenly. Bake 60 minutes or until potatoes are tender.  Gently stir one or two times during roasting.
Serve warm with meat or poultry of choice and a salad for a meal the entire family will love.   Enjoy!